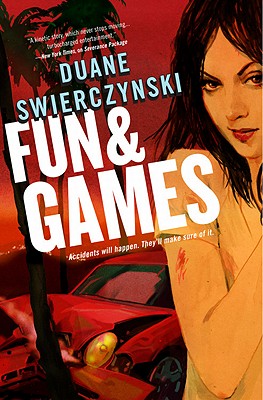 Charlie Hardie is a drunk, overweight, damaged, professional house sitter that just happens to stumble into a wild conspiracy laden plot to kill action movie star Lane Madden. Directing this attempted assassination is ultimate bad girl Boobs McGee. Actually she goes by Mann, but seriously, she's topless for the first ⅓ of the book. The only person Charlie can trust is Deke the FBI guy that keeps Charlie's family in hiding and knows the dark secret that nearly destroyed him.
 
Non-stop action, fast paced, explosive; all the superlatives that usually go along with a blockbuster action movie can also be used to describe Fun and Games by Duane Swiercynski. Unfortunately, it also shares an abundance of underdeveloped characters and plot holes.
 
I like conspiracy theories and fast paced action so this was actually a pleasant read. I probably won't remember it tomorrow, but it was better than watching a Michael Bay movie. And, you know, there's a topless assassin.  
 
Fun and Games is the first of 3 books featuring Charlie Hardie. I was intrigued enough that I'll probably check out the second book Hell and Gone. Let's hope it's better than most Hollywood sequels.
 
Most highlighted quote from Kindle users: The world is divided into three classes of people: a very small group that makes things happen a somewhat larger group that watches things happen and the great multitude which never knows what happened. —Nicholas Murray Butler

If you like action movies, books about actors, and quotes from action movies, you'll probably enjoy this.
Tags:
Book review
Book series
Duane Swierczynski
fiction
action
L.A.
17 notes
(
)